Manchester United boss Ole Gunnar Solskjaer had not recorded any semi-final success at Manchester United until his team came from a goal down to beat AS Roma 6-2 at Old Trafford on Thursday night. The two clubs had met at the Theatre of Dreams for the first leg of their Europa League semi-final tie.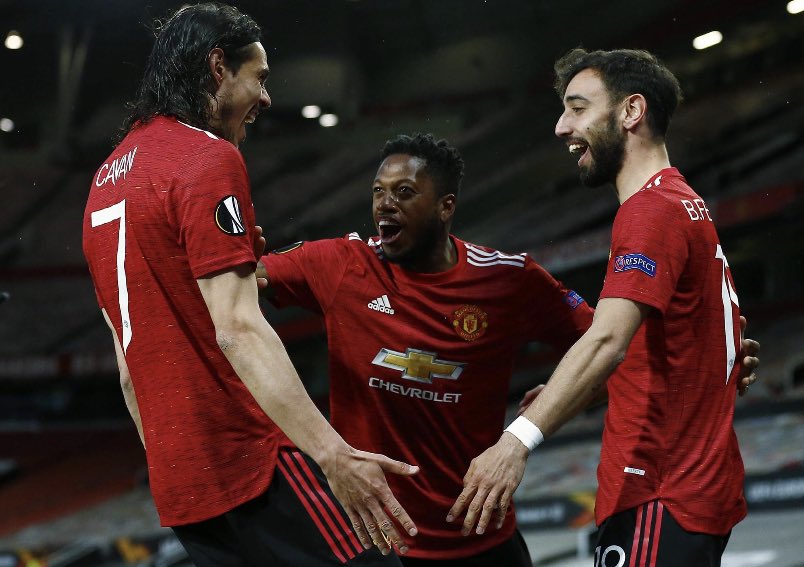 Before now, Solskjaer had lost four semi-finals and it looks like it would be fifth time lucky for the former United striker and his players produced a big second half performance to see off Roma in style.
The Manchester United manager lost three semi-finals last season alone. Solskjaer and his boys were knocked out of the Europa League semi-finals by eventual winners Sevilla from the Spanish La Liga last season. They were also eliminated at the same stage by Chelsea in the FA Cup. City rivals Manchester City knocked the Red Devils out of the Carabao Cup semi-finals last season over two legs and they also repeated the feat this season on their way to winning the competition thus making it four Carabao Cup titles in a row.
Solskjaer was on his way to losing a fifth semi-final as at the half-time interval before his players responded to him in the second half with a gigantic performance. His players scored five second half goals to turn a 2-1 deficit at the halftime break to a 6-2 win at the end of the game.
The Norwegian tactician was able to turn things around after his side had trailed to an EdinDzeko goal at the interval despite taking an early lead through Bruno Fernandes. Italian national team midfielder Lorenzo Pellegriniequalised for Roma from the spot thus paving the way for Dzeko to score a second goal for the visitors.
EdinsonCavani started the fightback for Manchester United after the break with a brace before further goals from the aforementioned Fernandes, Paul Pogba and young substitute Mason Greenwood took the tie away from Roma completely ahead of an academic second leg in Rome next week Thursday. Roma have to score at least four goals without conceding to secure a berth in the Europa League final next month.